Two linky parties in one day, I'm a party animal!! Whoo!
But really.. Amanda over at Teaching Maddeness wants to talk about music in the classroom and I LOVE playing music in my classroom! I had to join!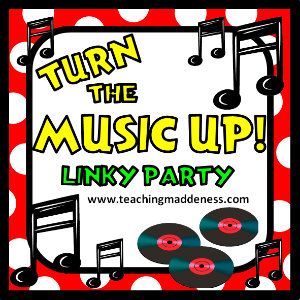 I play classical music...
I bought this CD on a whim when I was at a Kagan training. Well I play it ALL the time!
(Click the picture and it will take you where to purchase it and tons of other CD's like it)
It is all classical music by Gary Lamb. I play it in the mornings when students are trickling into the classroom and start reading as their morning work. It calms them down and is so much better than a silent room.. that is just creepy to me. Anyone else feel that way?
I play it whenever my students are working independently taking a test, doing writing, math, reading, whatever. When my students are quite and focused this music is on! I also play it during parent conferences for some background noise and during open houses.
I never ever used to like classical music.. at all.. but if I have a particularly stressful day I will even put it on after school and it just calms me. I'm really becoming a fan and adore this CD!
On the Kagan website they have tons of other CD's some for 'Focus Learning' (like mine), others for 'Keeping on Track' and even 'Lasting Concentration.' When I bought my CD I asked the Kagan peeps what is the difference between all of these CD's and they said nothing really, just different songs. So I just decided to pick the CD case that was my favorite color.. green. :)
I play fun music...
When it comes to more fun upbeat music I would hook up my iPhone to our speakers and play Kidz Bop Kids Pandora station. My students knew all of the songs and LOVED it. Must use as a incentive/reward next year!
Want to know my trick?!? I thought I invented this trick but you all might do it too.
Well the trick is.. DUN DUN DUN... that you play the music so all the students have to be pretty quite to hear it (a little above whisper voices) therefore the voices stay low so they can hear their favorite tunes. When this station was on I never ever had to tell my students to keep their voices down because they would quite down on their own when they couldn't hear anymore. Genius!
I play this station a lot during fun activities and crafting times when they don't need to focus as much.
Side note, my school's internet doesn't allow me to connect to Pandora so I have to go into my iPhone's settings and turn on WiFi then go on Pandora that way. I don't use my schools network since Pandora is blocked on there. And if you have speakers the cord can plug right into your phone's headphone jack! Or I heard if you put your iPhone in a cup it will make it louder too.. might work?
I play educational music...
I needed to spice up my math instruction with some breaks so I bought this CD to play a song for a brain break once in a while.
It also aligns with 1st grade standards which was great so I'd use it for an activator or to close a lessons as well (since the song was related to the skill).
Some of my students love it, some hate it. One of my girls always would come up and be like the aerobic instructor of the class with super high enthusiasm, but some of my boys would attempt to stay sitting in their chairs and hide.
I play educational music from YouTube...
I started using YouTube videos a lot more as last school year progressed. I would teach lessons on my SMART board then just pull up the YouTube video (I would pull them up before the lesson so their fully loaded) that goes with the concept to reinforce the concept, introduce it, or sometimes review it.
If the song didn't have hand motions, we would normally create some (it helps the memory!). Then I would start the next day's lesson with the review YouTube video to get my students attention and get them moving. Great activator!
My students like these much, much more than the Jack Hartmann CD. Its a video so the students have something to watch rather than just looking at each other. This helped the boys get more into the songs when they knew others weren't looking at them.
I would (or one of my team members) would find the videos by just typing in the skill we were working on in YouTube and tons of videos pop up. I love a lot of the skip counting ones! Try it out, I bet you'll be surprised by how many educational videos you find :)
Do you incorporate music into the classroom? I don't do a lot of singing of songs or chants because I can't carry a beat or rhythm to save my life! It is REALLY bad! I think I've sang my sorority's songs over 500 times and I still can't sing them on my own.. hopeless! So envious of those of you who are musically inclined!
If you have any educational CD's/songs/youtube videos that 2nd graders would love please share them with me!