Oh, reading. Reading is without a doubt my least favorite subject to teach because there are
so
many aspects of it. I took two reading classes in college and both of them were very theory based; I left college still unsure exactly how to teach students how to read (as in how it would actually look in a classroom).
I love math. Math is easy since there is only one goal at a time but reading there is fluency, comprehension, phonics, and vocabulary all building on top of each other and working together. I've struggled figuring out how to balance it all out in my 2 and half hour literacy block (yes 2 and half hours!) and when to teach what. I've done a ton of reading and a lot of research to fix my confusion and this website has made it all come together: http://www.readingresource.net/index.html
What did I learn from this website?
Why is phonemic awareness important? Simple. Because of it's strong correlation to reading fluency. Kids need strong phonemic awareness skills to support literacy development! When teaching reading, we must include phonemic awareness.
Well during my reading block our school does not schedule in phonemic development but I have always thought this was so important especially for struggling first graders. This verifies that I'm making the right choices for my students and I'm confident setting aside class time to go over phonemic skills, spending an entire day of guided reading on this, and have multiple workstations with this is a great decision.
A vocabulary gap exists among students in different socioeconomic groups.

Vocabulary knowledge affects long-term student achievement.

Vocabulary growth accumulates over time.
We should not wait to teach children words. This statement holds especially true for children from working class or poverty stricken homes. On average, these children hear 50-75% less words than children from a higher socioeconomic status. Their limited exposure to words results in vocabulary sizes that are half that of their same aged peers.
I work at one of poverty stricken schools so this is especially true for my students. On the tests they have taken vocabulary is always their lowest category. The good news is this website also has great activities to boost vocabulary. I also didn't understand how teaching synonyms and antonyms were going to help my students read (knew how it would help in writing) but now it totally makes sense. Total light bulb moment.
Here are a few of my favs:
Note
: most are more geared towards intermediate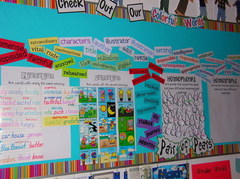 Colored word wall, might try with my first graders. Add not just sight words to our word wall but other vocabulary words from math, reading, science, and social studies.
Students add words they for found in their reading they understood or weren't sure of. I would use it for words they didn't know so we could talk about the meaning.
They have awesome lists, games, and anchor chart ideas for synonyms, antonyms, homonyms, contractions, compound words, prefixes, suffixes, and idioms. Like these:
Paint chips for contractions
Contraction Bingo
If you said antonym concentration color coded by level like I did then it is your lucky day because they have that too!
Antonym Concentration
Or a vocabulary dictionary that would be awesome to set up at the beginning of the year in a folder and have students actually keep up with through out the school year. That would be an awesome way to keep up with vocabulary instruction!
Vocabulary Dictionary
Once again I can't say enough great things about this website (
http://www.readingresource.net/index.html
) and I'll be sharing more of my favorite reading strategies and knowledge because ya know I'm an expert now and all. Totally kidding, I'm far from!
Please share how you incorporate vocabulary in your classroom and how do you find time to incorporate all the different necessary reading components into your reading blocks? Do you also find it a juggling act?